One of the most crucial things you can do to maintain your health as you age is to perform cardio workouts. Nowadays, a lot of people consider elliptical machines, rowing machines, and treadmills to be their preferred exercise tools. Perhaps it's time to start thinking of the recumbent exercise bike as the best cardio machine for seniors.
Discover our top 6 selections for the best recumbent bikes for seniors by reading on.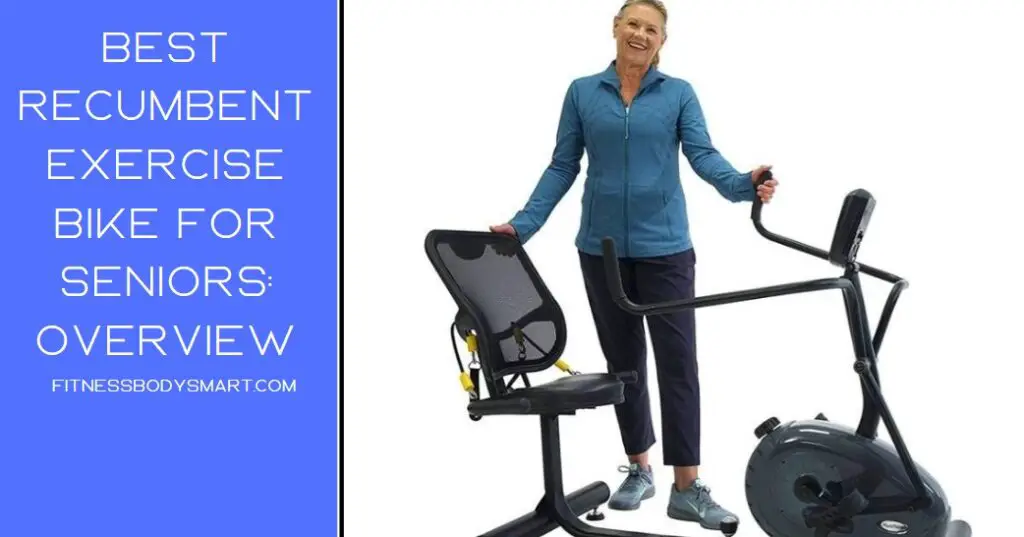 Best recumbent exercise bike for seniors
6 best recumbent bikes for seniors: features & reviews
Below are the 6 best recumbent bikes for seniors.
Marcy Recumbent Exercise Bike with Resistance ME-709
The Marcy Recumbent Exercise Bike for seniors is specially made to be as comfortable and simple to use as possible.
The step-through design allows mounting and, more significantly, dismounting after exercise as simple as possible, making it the perfect choice for elderly individuals.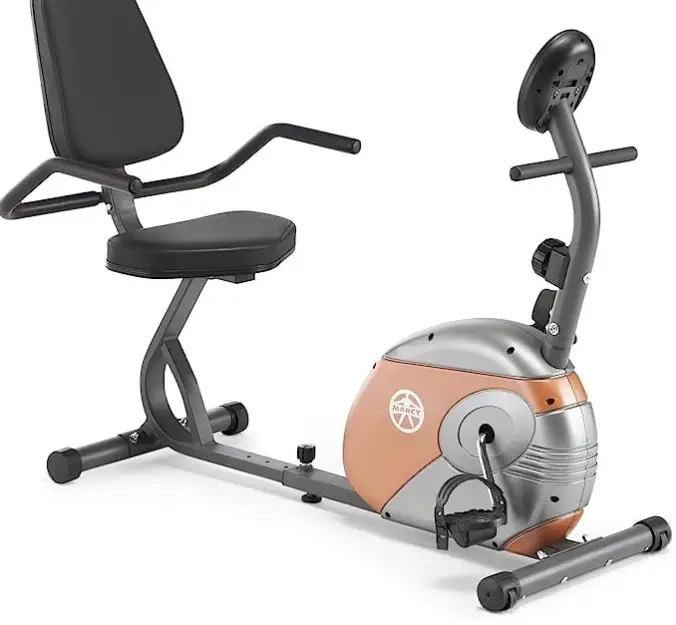 Even on a rainy day, you can look forward to a personalized workout thanks to the pedals and various magnetic resistance levels. You can start working out immediately because of the strong frame's lack of unnecessary extra features, which is tiny but engineered for maximum legroom.
With its clear panel display, the ultra-functional LCD computer screen doubles as an odometer and displays time, speed, distance, as well as calories burned in extra-large numerals for easy reading.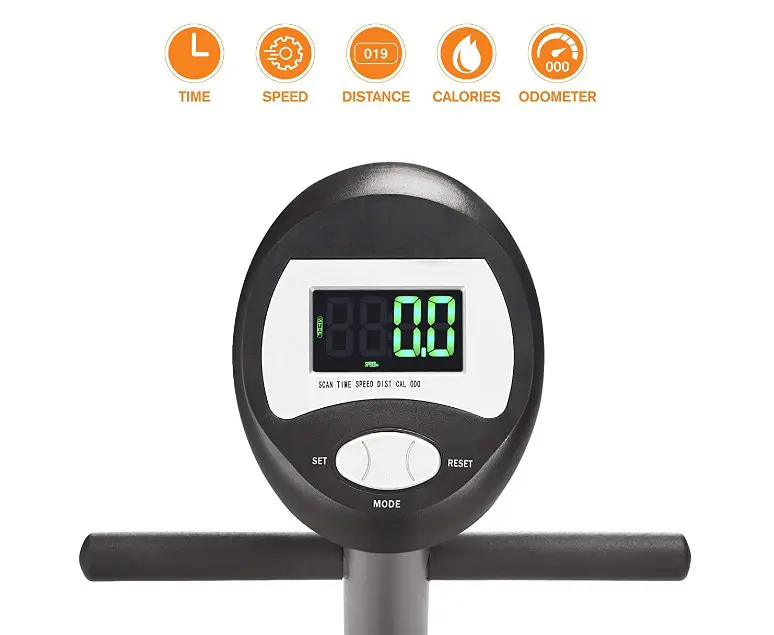 The equipment has a high-density foam saddle that is functionally built and comfy. It has handles with contoured foam coverings for further back and arm support, which aids in maintaining perfect form when exercising.
Pros
Simple to assemble and use
Easy mounting and dismounting with a step-through design that is gentle on the knees and back
The foot is supported and controlled by counterbalanced pedals
Easy-to-read LCD display for progress monitoring
Cons
There is no heart rate monitor
Some people may have trouble adjusting their seats
Bluetooth absence
Sunny Health & Fitness Performance Interactive Series Recumbent Exercise Bike with Optional SunnyFit® App Enhanced Bluetooth Connectivity
As with all the other recumbent bikes on this list, the Sunny Health Fitness recumbent bike is constructed with a walk-through frame. It is the most comfortable recumbent bike.
Although the light 6-pound flywheel on the Sunny Health recumbent bike for seniors won't offer you much momentum, it is enough to ensure that the initial pedal isn't too difficult. Because the drive system is belt-driven, the ride is quiet.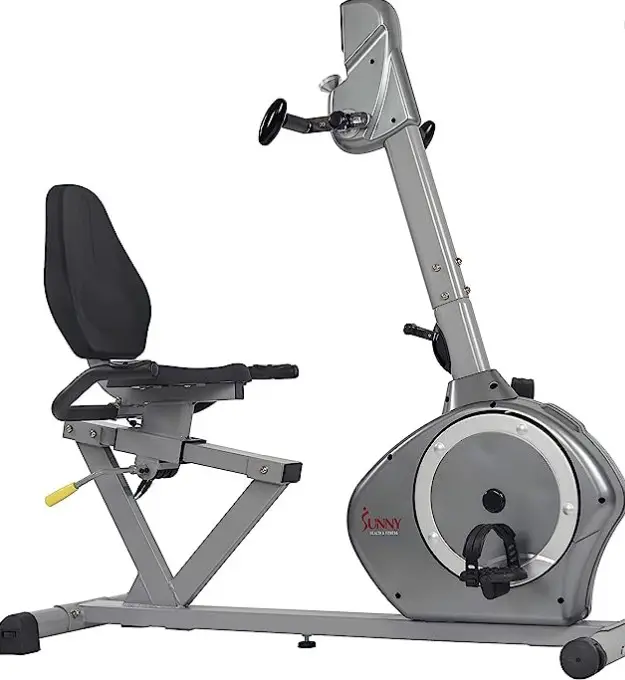 With dimensions of 14.5 inches in width and 11 inches in length, the flexible, comfortable seat provides enough room for the majority of individuals. The seat back's length of about 17 inches also gives adequate back support.
You may get the ideal position by simply adjusting the distance from the seat to the pedals while seated. Pulse sensors are included in the side grips of the seat, making it simple to monitor your heart rate.

Image credit: amazon
It will be clear why the Sunny recumbent bike does not have any built-in fitness routines when we discuss the cost. The display is simple-to-understand and is powered by two AAA batteries. You can choose to see each of the seven metrics separately.
Despite having fewer features than some other recumbent exercise bikes, this one has wheels for mobility, self-leveling pedals with adjustable straps, and eight magnetic resistance levels that can be selected by rotating a knob beneath the display. When compared to several recumbent bikes, the time required for assembly is about one hour, which is fairly acceptable.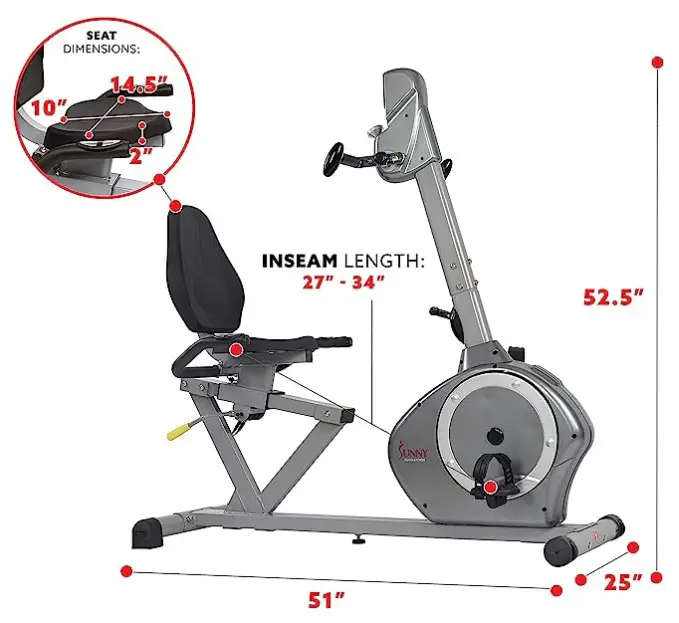 With a weight capability of 300 pounds and a completely built weight of 58.7 pounds, this exercise bike is a great option for elderly people. Its warranty lasts for three years, while the parts and component warranty lasts for 90 days. Although there is room for improvement in the warranty, the price of roughly $200 is a strong selling point.
Pros
It is rather light, which may be useful if it needs to be moved
Comfortable, adjustable padded seat
Compared to other bikes, the sturdy frame can sustain a larger user weight
Cons
Lack of a drink bottle holder
No holders for gadgets or tablets
Exerpeutic 900XL 300 lbs. Weight Capacity Recumbent Exercise Bike with Pulse
This Exerpeutic model aims to demonstrate that a compact and discreet recumbent bike can nonetheless offer the reliable and secure operation of the high-capacity recumbent bikes. While still being completely adjustable and offering the rider a pleasant ride, it occupies less space.
The bike is ideal for those of us who are less tech-savvy because of the huge LCD screen's simple connection to your devices, which offers excellent feedback and workout information.
The 900XL is very carefully packaged, which makes putting the bike together simple. Regardless, having an extra set of hands helps speed up and simplify the assembly process. It should only take two people a little under an hour. Expect it to take 90 minutes or more to assemble if you're working alone.
The box comes with everything required for proper assembly, however, if you have a hammer or mallet at home, reach for it, so you can put some of the parts together more quickly. It won't take long for you to start burning calories on it as long as you pay attention to the directions in the product manual.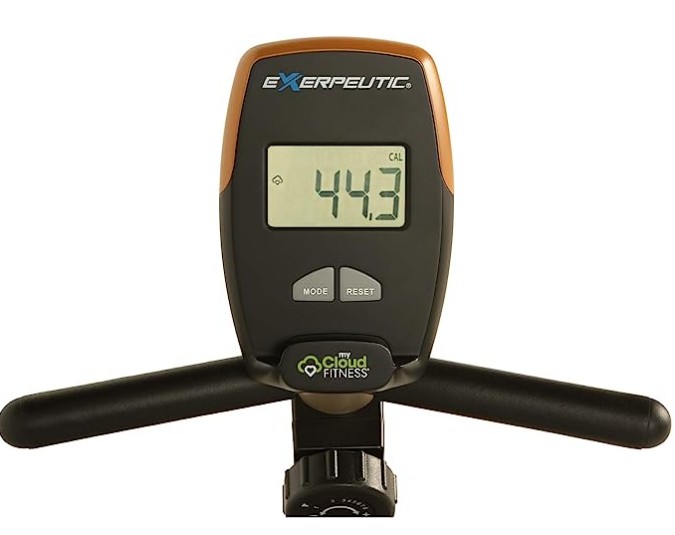 The only readings you'll see on the LCD panel are for time, distance, calories burned, the odometer, speed, and heart rate. There isn't much you can do in terms of exercise programming, but you can set your goals for each of these parameters, and the console is going to notify you when you've completed all the necessary riding to meet those goals.
Pros
Easy-to-understand display
Straightforward design
Easy to assemble
Cons
Adjusting the seat position could prove difficult
Uncomfortable for short people
Exerpeutic 400XL Folding Recumbent Exercise Bike
The Exerpeutic 400XL foldable recumbent exercise bike is our top selection for the best folding exercise bike. It takes a little more work to bring the user's leg over to the pedals on this exercise bike for seniors because it is foldable.
The fact that the 400XL Folding Recumbent Bike for seniors can fit beneath an adjustable desk is one feature of the frame that might be considered good because it potentially allows the user to perform other tasks while exercising.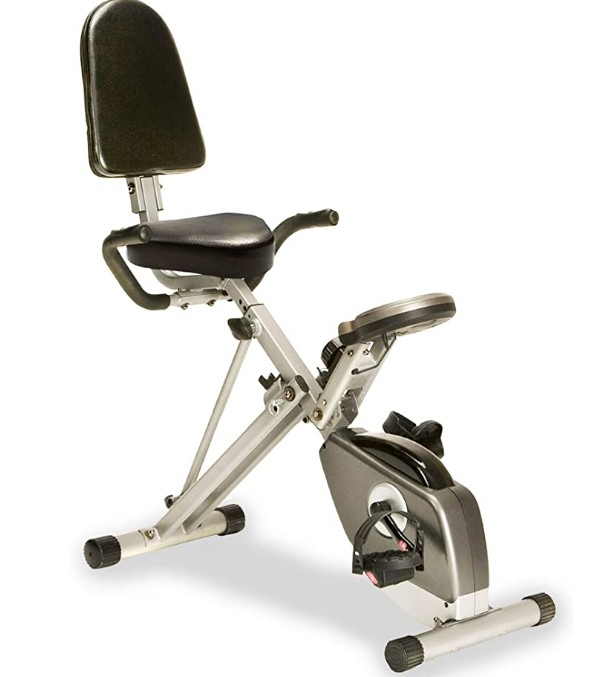 A V-belt double-drive gearbox transmission is combined with a compact flywheel to create an incredibly silent ride. Eight different levels of magnetic resistance are combined with the belt drive to provide a lot of diversity.
This recumbent bike's padded seat and backrest can support customers weighing up to 300 pounds and are incredibly comfortable. This recumbent bike for seniors features heart rate sensors incorporated into the grips on either side of the seat, just like most recumbent bikes.
The absence of preprogrammed programs on this recumbent bike for seniors is to be expected, however, most recumbent exercise bikes for seniors don't necessarily require them.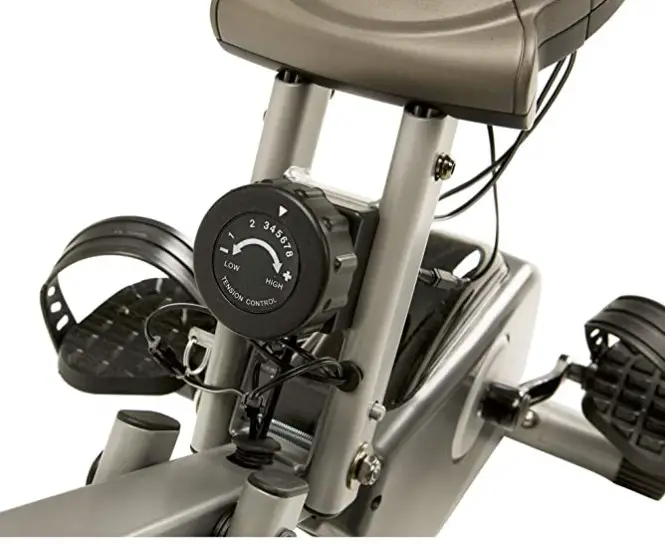 Rather than being at the customary location of roughly eye level, the LCD panel rests between your feet, right above the pedals. This exercise bike is particularly simple to operate in terms of technology because there is just one button on the console.
The most notable feature of the Exerpeutic 400xl Folding exercise bike is folding, as its name implies. Contrary to popular belief, the base of this exercise bike actually grows closer together rather than collapsing when it is folded.
Consequently, the base length decreases from 33 inches in workout mode to around 17 inches in storage mode. As a result, the bike's footprint becomes smaller while its height increases. Adjustable straps are included on the self-balancing pedals.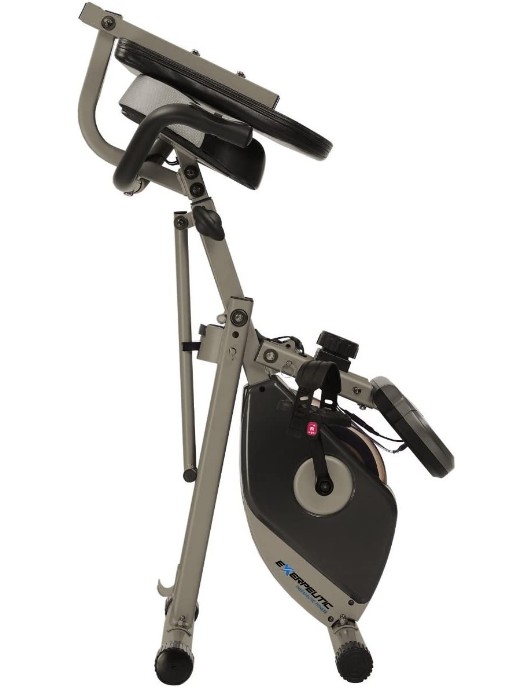 With the clear directions provided, assembling this bike is quite simple. Although this recumbent bike has transfer wheels, certain individuals might not feel the need to use them given that it only weighs 39 lbs. With a one-year limited warranty, this bike falls a little short in the warranty category. The short warranty period contributes to the bike's inexpensive pricing.
Pros
Inexpensive
Low weight
Best folding exercise bike
Cons
Short warranty
Stiffer seat
Leikefitness LEIKE X Bike Ultra-Quiet Folding Exercise Bike, Magnetic Upright Bicycle with Heart Rate, LCD Monitor, and easy to assemble
The LEIKE X Bike has several adjustable parts that may be changed to suit different requirements. The foot straps can be adjusted, and 10 resistance levels can be varied with the turn of a dial in addition to the seat's own seven distinct adjustments. This recumbent bike may be an upright or recumbent bike.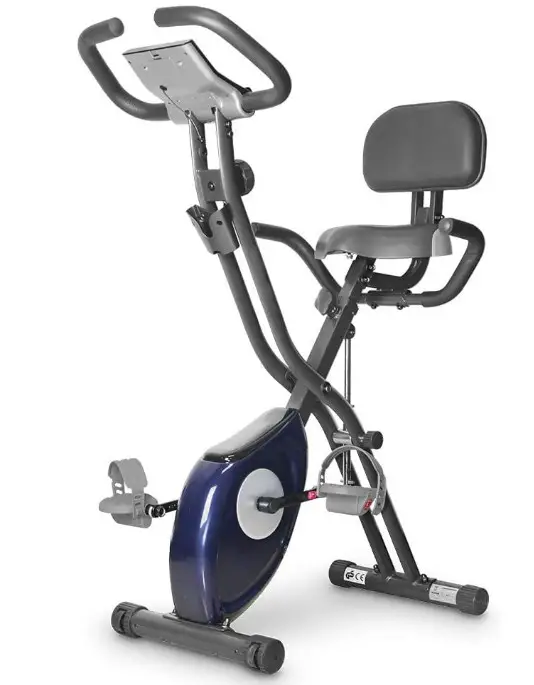 The weight capacity of the LEIKE X Bike is 220 pounds, meaning it's significantly less than the 300 pounds set by the industry. Additionally, at the highest resistance setting, the bike may sway a little bit. This is something to be aware of.
Pros
Affordable
Comfortable seat
Easy storage since it's foldable
Transport wheels
It may be an upright or recumbent bike
Cons
Absence of bottle holder
It can get unsteady
Marcy Magnetic Recumbent Exercise Bike with 8 Resistance Levels
This recumbent bike is designed in a walk-through manner to make getting on and off the exercise bike simple. Although there is no reliable information regarding the flywheel's weight, it is reasonable to presume that it is not particularly heavy given the price, therefore a little more work might be required.
With regards to the degree of difficulty, this recumbent bike includes eight magnetic resistance settings that are simply adjustable by turning a knob that is situated beneath the display panel.
The seat saddle has a 19-inch backrest and is made of high-density foam. Two ergonomic grips that run the length of the seat provide a supportive area to rest your hands while operating the exercise bike. The entire frame must be moved closer together or farther apart to modify the seat since it is not independently adjustable.
Pros
8 levels of magnetic resistance
Comfortable seat
Cons
Absence of cup older
Subpar warranty
What is a recumbent bike?
The recumbent bike for seniors is a type of bike where the user reclines backward. For practically everyone, using a recumbent bike is the best form of exercise. The fact that exercise bikes require less room compared to other machines makes them ideal exercise equipment.
Therefore, if you want to perform some cardio exercises but aren't interested in joining a gym, you can ride a recumbent bike to lose weight while keeping your body at ease and watching TV.
Some individuals believe they may successfully enjoy aerobic workouts while standing. Others, though, enjoy exercising while seated. Because of their supportive backrests and soft seats, recumbent bikes are the greatest option for sitting exercises. A recumbent bike for seniors aids in upper-body muscular relaxation.
By concentrating on the lower body and cardiovascular system while providing complete back support, this bike aids in relaxing your upper body muscles.
Best recumbent bike for seniors buying guide
There are a few important criteria you should take into account when looking for the best recumbent bike for seniors.
Design
Mounting and unmounting must be simple and effortless. A step-through ought to be used in the design. Instead of lifting your leg and crossing it over the bike, you may go to the recumbent bike and sit down on the seat.
Transport
You want to make sure the exercise bike for seniors has transport wheels if your home has limited room or if you intend to use it less regularly. Seniors who could have trouble lifting heavier equipment should take this into account even more when deciding the best recumbent bike for them. You got the recumbent bike to stay in shape, not to compete in weightlifting, after all.
Look for reviews about the best exercise bikes tested that note how simple it is to transfer from room to room or store after usage. A well-constructed recumbent bike features a variety of characteristics that make it simpler to move around or fold when required.
Some of these are more mobile than others because of additional wheels and ergonomic designs, while others are light but have a sturdy frame.
Effortless use
A cardio machine with too many features is not what you want. Using complicated buttons and complex functions can be annoying. I advise ensuring that the functions are straightforward to use and, more importantly, that you understand them.
Reviews
You can choose the best recumbent bike to suit all of your demands by asking users who have used the equipment for real feedback. Reading reviews might help you determine if the bike you're considering would meet your needs.
Feedback display
This is very important when deciding on the best recumbent exercise bike to purchase. Nearly all contemporary recumbent bike designs come with an integrated feedback LCD panel that provides an array of information (such as distance, time, speed, and heart rate) and serves as motivation during exercise.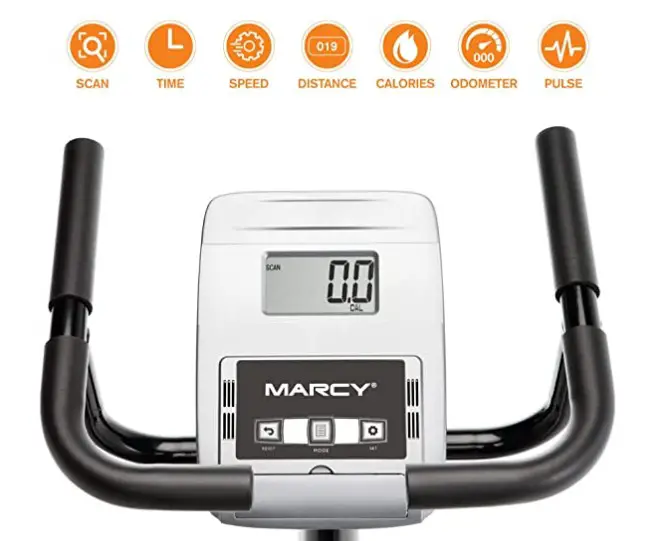 It enables you to monitor your progress and challenge yourself more to see if you are meeting your daily fitness goals. A fantastic technique to determine how much your fitness has improved is to use your approximate heart rate measurement.
The Bluetooth connectivity, easily readable display screen, and integrated link to apps on other gadgets can be slightly intimidating for seniors who are not as technologically literate.
The best recumbent stationary bikes for seniors enable a simple setup of exercise routines and software, swiftly allaying any potential concerns.
Check for reviews that highlight both the bike's usefulness and user-friendliness with other applications or gadgets, as well as how simple and easy the screens are to use.
Size 
When deciding which is the best recumbent bike for your home, size is important. Your available area, the room it will fit in, and whether or not it needs to be moved easily in and out of that space are all important factors to take into account.
It makes sense that larger machines are slightly more durable and can support heavier individuals. Better comfort and adaptability throughout the ride can additionally be offered by a larger exercise bike for seniors, while lightweight recumbent bikes for seniors are considerably easier to maneuver but may be slightly less stable.
Comfortable and adjustable seat
Choosing a seat that is comfortable for your workout machine ought to be a top consideration when deciding on the best exercise bikes. To make your ride more comfortable, the majority of recumbent bikes have a seat back and additional padding. You can always buy a cushioned seat cover, though, if you have an upright exercise bike with a hard seat.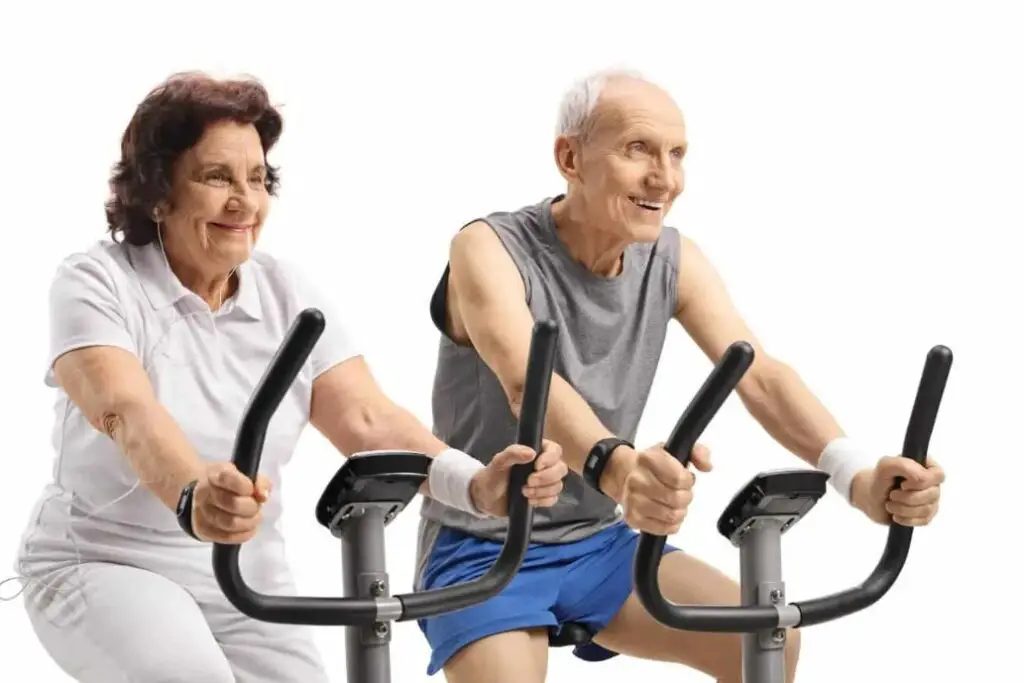 Stability
Stability is important if you want the best recumbent bike for seniors. If you plan to use your recumbent bike for any type of difficulty level, stability is essential. What starts as a comfortable ride when you grip the handlebars and hope you don't fall over quickly turns into a horrifying experience of feeling much less safe on the bike every time there is a wobble.
Check to see if the exercise bike for seniors is steady on a hard or carpeted surface. Check to see if other users start trembling as the resistance levels increase. Heavy-duty bikes shouldn't have a problem with stability.
In addition to the actual stability, you should take into account your own feeling of balance. This relates to the construction of the flexible seat and the availability of handholds. Verify that the exercise bike for seniors provides the support and convenience required for a comfortable and stable ride.
Benefits of the best recumbent bike for seniors
Below are the benefits of recumbent bikes.
Weight loss
The burning of calories on exercise bikes greatly aids in weight loss. You will burn more calories if you exercise frequently as you age. Seniors should not overwork themselves in order to burn extra calories, even when higher-intensity workouts yield quick benefits.
Heart health
Regular exercise on exercise bikes helps to reduce stress on the heart by promoting a lower heart rate. Your blood pressure decreases, and healthy blood circulation throughout the body is ensured when the heart is not put through extra strain.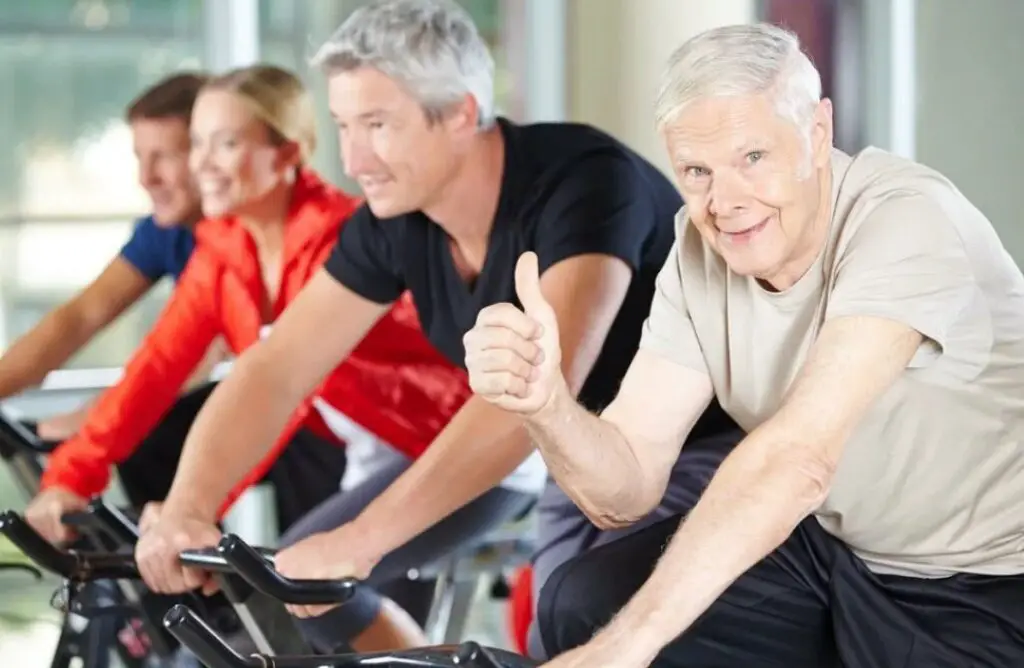 This is crucial, especially for older people. Our arteries narrow and pump less blood through our bodies over time. The heart enlarges as a result of this condition, making ordinary activities like walking long distances or climbing stairs more challenging.
Seniors who regularly bike for exercise can experience reduced heart rates, blood pressure, and improved blood circulation. The risk of deadly heart disease and stroke is decreased.
Muscle strengthening
Your bones and muscles typically deteriorate as you age. You need a recumbent bike to build your muscles if you're over 50. To increase general fitness, the quadriceps and hamstrings must be strengthened. An exercise bike can help you tone your back and legs.
Is the Schwinn 270 recumbent bike good for seniors?
Seniors should consider the Schwinn 270 Fitness recumbent bike since it is quiet, cozy, and user-friendly in terms of both design and technology. It is a comfortable recumbent bike with a ventilated seat. This exercise bike for seniors is suitable for apartment life because of its quiet and efficient operation alongside its ventilated seat. It is arguably the best recumbent bike available.
Are recumbent bikes better for seniors?
Yes, seniors who want to exercise without putting too much stress on their bodies may consider using recumbent exercise bikes.
Instead of having to lean over as you would on a traditional bike, these bikes allow you to sit back and pedal while having your legs extended in front of you. This posture is ideal for anyone with balance concerns and is also gentler on the back and knees.
For moderate rehabilitation following an injury or surgery, a recumbent bike is an excellent low-impact cardio training option for seniors. A recumbent exercise bike for seniors is an excellent option if you want to start exercising or simply want an easy workout.
How long should a 70-year-old ride an exercise bike?
Consult your doctor before starting any exercise regimen or getting exercise bikes. After receiving medical approval, ride the bike three to five days weekly for a minimum of 20 to 30 minutes to experience the health benefits of a great cardio workout. Ride your bike at a constant speed. Always be aware of your body's signals, and if you experience any pain, stop exercising.
Conclusion
The Marcy Recumbent Exercise Bike with Resistance ME-709 is arguably the best recumbent bike for seniors in our opinion.
The simple fact that it was created specifically to meet the needs of elderly people makes it a fairly obvious pick. It is the best workout recumbent bike for seniors because the seat is very supportive and comfortable for prolonged use, and because of the unique step-through feature.
Seniors and anyone with back or leg ailments find mounting and dismounting the recumbent stationary bike to be much easier thanks to its skilled design.