Best Treadmills Under 300.00 In 2023
A study done by the Guardian shows that the gym dropout rate is as high as 80% in the first eight weeks. Some are usually in search of a more comfortable place to work out. And that's where working out from home comes in handy. If you want to start working out from home, you'll definitely need a cheap and high-quality treadmill. If you didn't know before, you can easily find a good-performing treadmill at $300! Sounds interesting? Right? 
Looking for the best treadmills under 300.00? We've invested 100s of hours to research, collect, and review the best picks. Just read on to discover.  
1. MaxKare Electric Treadmill Foldable-17″ Wide Running Machine
This Maxkare treadmill will make you feel the joy of running in the comfort of your home. It has a quiet and powerful motor that delivers a speed of between 0.5 to 7.5mph. Amazingly, it does it quietly. You will never hear the irritating noise!
Also, this treadmill under 300.00 allows for 3-level manual inclines if you want to increase or reduce the intensity.
Additionally, this model comes with a large display panel so you can be sure that it is packed with great programs. You can easily track the time, distance, calories, heart rate, and real-time speed as you put your body to test through the panel. You could also choose between the 3 and 6 quick speeds if you feel like running faster or slower.
Features
It comes with twelve preset programs.
The user weight is under 186 pounds.
Using it does not need any practice as it allows for one-touch operation.
There's a heart rate sensor that helps you monitor any changes in your heart rate before and after exercise.
Has a phone or iPad holder if you are a fan of watching videos as you work out.
What we liked
This model offers stability in loads. All you got to do is to adjust the support pad after changing the incline. Then fix the pin in the front part when folded or not.
Unlike some treadmills that make you feel so uncomfortable while running, this one has a multilayer running belt that absorbs vibration and offers protection to your knees and ankles. Plus, its wide multilayer tread belt is wide enough to provide sufficient space for a much comfortable and safe run.
This unit doesn't need any engineering experience to put it together. The instructions are easy to understand, and since it doesn't have much weight, it won't be a struggle.
You can always transport this treadmill under 300 to wherever you please thanks to its wheels.
When it comes to putting it away, this unit doesn't have to take up much of your floor space. You can fold it up once done with your session to avoid your little ones from having accidents.
What we didn't like
It doesn't come with the decline function, but the other incline options work perfectly.
What's the bottom line
This Maxkare unit will help you stay focused on staying fit in the comfort of your home. Its ease of transport and foldable design makes it convenient for you to use it just anywhere that you please. The installation procedure is straightforward, and you won't have to ask for help.
And to make it even better, you don't have to break a bank to own this. It is one of the best reasonably priced treadmill for its functionality.
2. SereneLife Smart Electric Folding Treadmill
Finding a great treadmill under 300 that has excellent features might seem like quite a task. However, settling for the Serenelife model will make you fall in love with the outstanding features it has.
Being a sturdy and super quiet treadmill makes it an excellent choice for anyone who would love to train at home in a quality unit. It comes with twelve preset training modes that will let you use a personalized program to achieve specific goals. Also, it has an adjustable Speed of 0. 6 – 6. 0 MPH. That makes it an excellent fit for both newbies and athletes.
Luckily, assembling it doesn't take you the whole day. It is super easy, and if you feel troubled, you can hack this by going through the manual.
While it might feel like treadmills are all about training, this one offers more than that. It connects with Bluetooth pretty quickly, allowing you to use your favorite applications, not forgetting the Fitshow app.
Features
It comes with incline features that you can adjust manually to achieve your ideal incline levels.
Has a built-in magazine/book tray and a cup holder just if you are a reader or would love to sip your favorite drink while walking, jogging, or running.
The machine is capable of monitoring the heart rate through the hand grip sensor.
The SereneLife unit boasts an LCD digital display screen that is controlled by the touch of a button.
It supports up to 265 lbs.
The running belt is 39. 37″ x 15. 74″.
What we liked
If space is your concern, then this model is your best bet. It has a hassle-free motorized plug-in design and a hydraulic folding style that makes it easily foldable.
A rare feature on this treadmill is its compatibility with all the latest Bluetooth devices. Plus, it offers hassle-free pairing without the need for any password. Through this feature, you can easily share your fitness journey with friends. Plus, it supports tablets, iPhones, and Android phones.
The pro is that you can set the speed and duration you want to walk or run. Through this, you can alternate high and low cardio to maximize efficiency.
You want to track the distance, speed, heart rate, and run time as you exercise? The best treadmill for runners on a treadmill displays this on its screen to provide you with an exceptional experience.
Running on an inclined surface will offer tangible results compared to doing it on a flat one. No wonder this unit is a gem to those that want to burn more calories through incline adjustment.
What we didn't like
The manual incline can only be adjusted manually; hence might seem like some task. However, this will take you less than a minute.
What's the bottom line?
Want to get in shape in a comfortable, sturdy, and efficient treadmill? The SereneLife ticks all the boxes and will be an excellent addition to your gym.
Additionally, this machine is perfect for those who do not need the bells and whistles of working out on the most expensive treadmill—just the ideal price for your pocket.
3. Best Choice Products 800W Portable Folding Electric Motorized Treadmill Machine with Rolling Wheels
Since it comes with three different combinations of workouts, this popular treadmill will let you choose your most preferred one regarding speed and time. On that note, both beginners and advanced runners are well catered for.
The central console has a digital display where you can track the calorie counts, time, speed, and distance. On the handles, there are start/stop buttons, speed settings, and heart rate sensors to monitor any pulse changes.
It is also portable, meaning that if your travel plans take you away from your home, you will not have to miss your workout regimen. With the foldable design, it won't consume much of your space. You can tuck it under your seats when done.
Features
It features a digital display where you can see the calorie counts, time speed, and distance.
The best choice comes with a media shelf for phones, remotes, books, tablets, and two water bottles where you can cure your thirst as you engage in serious exercise
The overall dimensions are 48″L x 24″W x 48″H
You can quickly move it as it has a portable folding design.
Anyone below a weight capacity of 250lbs can comfortably use it.
An 800W motor powers it.
What we liked
Automatic /manual speed settings
Plenty of people rave about how conveniently you can switch between the speeds. You can choose between 7.5, 5.5, 4,2, and 0.5 mph and easily adjust using the switch.
A digital display will keep you on toes all the time. The benefit is that you can easily track your progress by providing readings such as running distance and speed.
Most people will not tell you that you need to stick to your level of exercise. If you are a rookie, you should start like one; pushing yourself too hard will only hurt you. This machine comes with three preset workouts; advanced, beginner, and intermediate. It, therefore, lets you stick to your lane while pushing you harder too.
You can break the monotony of having exercise in one place with this model. It is on the go-friendly as it folds down easily. Besides, this treadmill below 300 has built-in wheels that you can roll instead of lifting it—no more excuses as to why you didn't work out on your travel.
With this pick, you will appreciate how conveniently you can access your water bottle, phone, or book while still running.
What we didn't like
It is not fast enough as it offers a maximum of 7.5mph. It would work suitably for joggers, anyone who loves walking or people who don't run so fast.
What's the bottom line?
This treadmill will help you achieve your weight loss goals most efficiently and conveniently. What more could you ask for?
4. Fitness Reality TR1000 Manual Treadmill with 2 Level Incline & Twin Flywheels
Walking on a treadmill for a month will give you the results that you've always dreamt of. That is no different from the Fitness Reality one; it will help you achieve your results.
The Fitness reality model boasts a great frame made of steel and that can comfortably hold a maximum of 230 pounds—no wonder those that have used it rave that it has served them for long.
With the 43 by 13 1/3 belt, you will have plenty of space to move around—no need to fear that you may slip and fall on the side. Also, the Fitness Reality model can be stored and transported easily. That is due to the bottom wheels and the fold-up design it has.
Features
It has an LCD Display where you can follow up on your stats.
The Fitness treadmill has a weight capacity of 230lbs.
The handles are long enough to offer maximum support.
You can change it to two incline levels.
It features twin cast iron flywheels for smooth and quiet walking
What we liked     
This model boasts a slimline compact design and a sleek powder-coated finish. Who doesn't love their gym equipment looking appealing?
A survey done showed that 459,978 people got injured while exercising or using gym equipment. With this model, you are assured that your safety is in good hands thanks to its wide rails. The longer handles with foam grips also play a significant role in providing for walking security and preventing loss of balance.
2 Level Incline Adjustments
Inclining your treadmill will help you tone up well. The manual incline feature on this unit is easy to position, and you can choose between the six or the ten degrees.
This treadmill under 300 can support 230 pounds thanks to its rigid frame. If you are lighter, you can decide to jog on it together with your friend.
The LCD has proven to keep you aware of the elapsed time, number of calories burned, distance, and speed. 
What we didn't like
The LCD isn't very impressive. Nevertheless, if you are in search for a treadmill whose LCD screen has the basic features, this is the best. It may not be as engaging, but it shows most of the essential things.
What's the bottom line?
You will certainly not regret spending cash on this equipment. It delivers excellent performance while keeping you safe. That's not all that it offers; it is portable and easy to move out of sight whenever you are done using it.
5. MaxKare Electric Treadmill Foldable 17″ Wide Running Machine
that happens to boast a 17inch multilayer belt is a budget-friendly option that provides the quality performance you would expect from a high-end treadmill at a fraction of the price.
The best treadmill for runners on a budget boasts top performance thanks to its copper motor that offers speeds of up to 7.5mph. Surprisingly, it does this without producing any irking sound, and the advantage is that it saves on energy.
Also, it has an anti-shock system to protect your knees and prevent any injuries. This way, you are assured of a better running experience.
Features
It has a large LCD.
There are three manual incline levels.
It comes with twelve preset programs.
It weighs 220 pounds and can hold a maximum of 186 pounds.
The design is foldable, allowing you to save on space.
The MaxKare treadmill boasts an easy one-touch operation.
What we liked
If you are a music enthusiast music or would love to exercise with your iPad or phone close to you, then this treadmill got you. It comes with an iPad holder allowing you to watch videos as you work out.
Sometimes the best treadmills are those that are stable and not shaky. This one is not an exception since all you have to do is adjust the support pad after changing the incline and then fix the pin when it is either folded or unfolded.
Has three manual adjustable inclines
If you ever wanted to own a treadmill that will help you lose weight fast, this is the best fit. The three incline design will help you train on strength and burn more calories than a non-incline-adjustable treadmill.
You can easily observe your heart rate while exercising on this treadmill. And it doesn't just give figures; users have raved about its accuracy.
What we didn't like
The incline feature can only be done manually; hence you have to get off the machine to do it. However, it doesn't take a lot of time, and considering its benefit; it is worth it.
What's the bottom line?
The MaxKareb model offers significant value for its price tag. Looking at its features, it makes it to the list of best cheap treadmills for running.
6. Weslo Cadence G 5.9i Cadence Folding Treadmill, Easy Assembly with Bluetooth
treadmill whose deck is cushioned to offer maximum comfort? This pick will ensure that you suffer minimum discomfort on your joints thanks to the cushions that absorb shock.
If you ever wanted a convenient way of having personal trainer workouts at home, this is the best way to go about it. There are six programs created by qualified personal trainers designed for specific goals. For instance, if you want to concentrate on intensity training this month and fat burning next month, all you got to do is choose the program that aligns with your goal.
Furthermore, if you are a fan of using workout apps, then you will appreciate this equipment. It allows you to conveniently access apps like iFit via Bluetooth. And to add to that, it comes with a one-month free membership.
Features
The Cadence G 5.9i doesn't produce noise even at high speeds.
It features a water bottle holder and an integrated tablet holder.
You can use the incline feature to position the treadmill in two positions; 1.5 and 6 degrees.
The maximum user weight is 275 lbs.
This treadmill has six preprogrammed workouts.
Cadence G5.9i features a space saver design that makes it fit just on any space.
What we liked
A treadmill incline will help you burn more calories and build more endurance in a short period. You can try either the 1.5 or six degrees that the cadence offers and see how it goes.
Nobody wants a belt that has limited space. If your strides are averagely long, then you are not likely to run out of space.
To enjoy training fully, your joints have to be okay. The cadence treadmill supports your joints with the comfort cell cushioning technology. That also contributes to faster recovery, no matter how intense your session was.
Follow your trainer wherever they may be
Nothing beats having a personal trainer to help you achieve your fitness goals. You will always be assured that you are on the right track. With the preset programs found on this treadmill, you will be working out the right way; all you need is to set the right plan.
What we didn't like
The running space on this unit is limited, and the motor is not as powerful; hence may not accommodate a calorie-burning stride. It is, however, the best treadmill under 300 for long walks.
What's the bottom line?
The technology that this treadmill comes with makes it worth every buck. It is safe too, and no wonder it should be a staple equipment in your gym.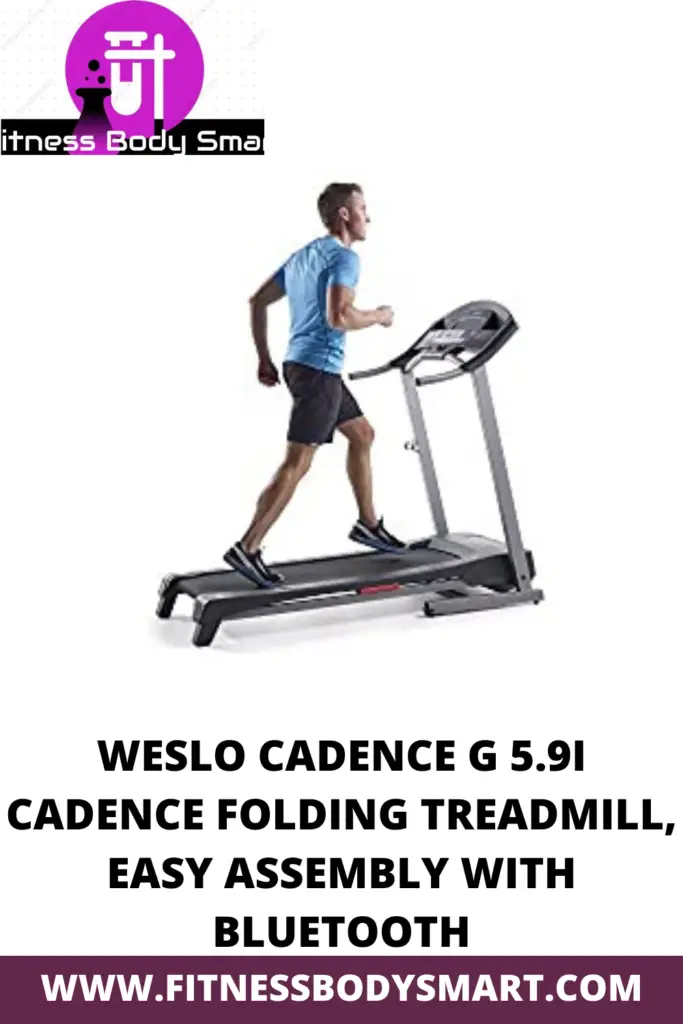 7. ProGear 190 Manual Treadmill – 2 Level Incline and Twin Flywheels
Just like the name, the ProGear is arguably 0ne of the companies that manufacture the best treadmills under 300. The ProGear 190 is a treadmill that balances performance and affordability. Also, it offers comfort and safety for everyday exercise.
It can handle up to 230 lbs of user weight. That means that even those who feel like they have some excess weight can jog on it without the fear of breaking it down.
There are twin cast iron flywheels beneath that helps it move smoothly and without making lots of noise. You can move it even in the wee hours and burn the calories.
 Features
It has 230 lbs of user weight capacity
There are twin cast iron flywheels for smooth and quiet walking
The belt size is 43″ L x 13 ¼" W
No electric outlet required
It comes with a manual to assist you with assembly.
What we liked
Two Position Incline adjustments
If you are an experienced person in the world of exercise, you already know what it means. This treadmill has two-position incline levels that you can change quickly and easily. You can choose the six or ten degrees one depending on how fast you want to achieve your goals.
You will note that this treadmill's frame is made of steel. That means that you will not need replacement any sooner unless you want to upgrade. And with the low price, it is worth every single penny.
If you love carrying your gym equipment with you, then this will be your favorite new accessory. This treadmill folds up easily to dimensions of 21L x 23W, allowing you to fit it in your boot easily and accompany it with your to your vacay.
No need to fear that you may fly off the treadmill and land on the floor, especially when you are running at high speed; this device got you. It has longer handles with foam grips that you can hold onto to avoid losing balance.
What we didn't like
The one downside of this treadmill is that it could take some time to assemble it. That is a minor flaw as the package includes a manual. The instructions are clear, and you will be surprised that you will use less than fifteen minutes.
What is the bottom line?
This machine is excellent for its price. The safety and comfort it offers cannot just be ignored. If you want to save money and still get that dream body, you could check out this one.
FAQ SECTION (FREQUENTLY ASKED QUESTIONS) 500 WORDS
What is the best inexpensive treadmill?
Are you hunting for a new treadmill and want to spend the least amount of cash possible? Well, you might be unsure of which model will serve you best without going beyond your budget. We will give you a list of treadmills below 300 that have proven to fit the bill and not leave your pockets dry too. And while many people think that low cost means cheap, this isn't the case with the treadmills listed here. They come first in matters of price, quality, and user reviews. They are;
MaxKare Electric Treadmill -17″ Wide Running Machine
SereneLife Smart Electric Folding Treadmill
Best Choice Products 800W Portable Folding Electric Motorized Treadmill Machine with Rolling Wheels
Fitness Reality TR1000 Manual Treadmill with 2 Level Incline & Twin Flywheels
MaxKare Electric Treadmill Foldable -17″ Wide Running Machine
Weslo Cadence G 5.9i Cadence Folding Treadmill, Easy Assembly with Bluetooth
ProGear 190 Manual Treadmill with 2 Level Incline and Twin Flywheels
Where can I buy the best inexpensive treadmill?
For a convenient and reliable place to buy a treadmill, you should try amazon. A quick search on online websites where you can buy them will lead you to tens of them, but which one delivers?
Amazon is a site that makes it possible for you to buy the best inexpensive treadmills by bringing sellers worldwide. That helps you to compare prices at a glance from different sellers and stores.
In amazon, you are assured of dependable delivery and customer service. You could also be eligible for free shipping and other discounts on your lucky day. No wonder it is high ranking.
Is it worth having a treadmill at home?
Having a treadmill at home should be everyone's dream. Imagine having it in your living room; it will always remind you that you need to exercise. You will also not have the uneasiness about gym opening and closing time.
Moreover, with the treadmill at home, you can decide to use it while at the same time you are doing other things like watching movies or listening to your favorite music. Who doesn't love some nice background music while running? When the weather is not so good, and you still want to look shapely, you can always run without going outdoors.
With everyone at home using it, you are sure of a healthier family. You can, therefore, set fitness goals together and work towards achieving them. Luckily, it will not cost you a dime to do this. Other than the purchase cost, you will save yourself additional fees like the gym membership costs.
If you are a bit conscious and love having some private space while exercising, this is the way to go. You can jog or run all you want without feeling embarrassed or feeling like someone could be watching you.
How much is a used treadmill worth?
If you want to own a new treadmill but your budget is low, you could opt for an old one. When sold in good condition, a used one is still a good investment. Most of them go for 70% or below of the original buying price.
Conclusion
Keeping in mind that most gyms have closed their doors now, people are trying to get creative to remain in shape. To keep up with your fitness routine, you will want to purchase a few equipment that you can use at home.
A treadmill is the ultimate piece of workout equipment. It is affordable, portable, and working out on it is pretty easy or challenging. It all depends on what your goal is. With the list given above, be sure of getting a treadmill below 300 that will offer you with an efficient, low-cost, and challenging workout.
Related Resources
Book holder for exercise equipment
How much energy does a treadmill use
How tight should a treadmill belt be
Nordictrack elite 9500 treadmill
Surge protectors for treadmills
How to disassemble a NordicTrack treadmill
Desktop attachment for treadmill
What muscles does the treadmill work