Finding a good treadmill that serves your best interest shouldn't be as hectic as it usually is! This Freemotion 860 treadmill reviews will help you to make an informed decision before buying this product.
For some decades, FreeMotion has been constantly improving most of its products. Research and innovation have been their key driving factor and this lead to the upgrade of some treadmills.
That's why the 830 treadmill was upgraded to freemotion 860 version which comes with better features.  In this article, we will therefore review freemotion 860 treadmill.
Freemotion 860 Treadmill Review 
Product Description
Freemotion 860 was specifically designed for time-constrained individuals who desire a vigorous workout but can't make it to the gym. It's a great space saver and is powered by a 3.8 continuous horsepower motor. This product has gained popularity due to its robust structure and incredible home exercise experience that's hard to find elsewhere.
Features At a Glance
Sturdy 3.8 CHP motor
Foldable design
0-12 mph speed limit
Incline and decline training options
Optional iFix subscription
Large belt size
34 independent training programs
375 lbs weight capacity
Heart rate sensors and speed monitors
Warranty available for lifetime on frame and motor, 5 years on parts, and 2 years on labor.
What We Liked
Outstanding performance. With a powerful, robust, and reliable motor of 3.8 HP, freemotion 860 generates a speed of up to 12 mph. The experience is quiet, despite it being highly powered, plus a 22" by 60" spacious running deck.
The deck, moreover, is fitted with a shock absorption system that reduces the impact on your back and joints. The precision-machined 2.5" non-flex rollers keep the belt in motion with minimum heating, thus less wear and tear.
Easy monitoring. You can easily swipe through your stats thanks to a 7-inch touch screen monitor. The monitor has an in-built android, in case you like browsing or following a YouTube program. All important stats such as time, speed, calories burned, and distance covered are displayed onscreen.
Additionally, you can toggle through 34 workout programs designed by certified personal trainers. Monitoring your heart rate is simplified by a Dual-grip EKG monitor with a wireless chest strap. If you disregard that, just reach out for handlebars as they are fitted with two hand-grip sensors.
iFit ready. Designed by Icon fitness, iFit will allow you to choose between different paths in the world at the comfort of your home. The subscription is not mandatory, but a few dollars will give you a fantastic experience.
You can also access your iFit account through a laptop, Smartphone, or even at the gym to revisit or add on your stats.
Your training sessions on freemotion 860 are not just a workout program but also an entertaining experience. It's fitted with built-in ports to allow you to connect iPod and mp3 players. You won't have to worry about your gadgets, as there is an integrated tray for holding them.
What we didn't like
Freemotion 830 treadmill, now Freemotion 860, has a little more time-consuming assembly than some other treadmills. This is, however, expected due to its sturdy frames and classic console. You don't want a treadmill assembled within 2 minutes but only last 6 months!
What's the bottom line?
We recommend this product for home users who have a fitness goal to achieve. Setting a monthly or yearly goal could enable you to achieve your target easily. Treadmill 860 is a perfect fitness equipment, especially for walking and jogging.
The different workout programs within it ensure that you don't run mind blank, in case you don't have a specified workout in mind.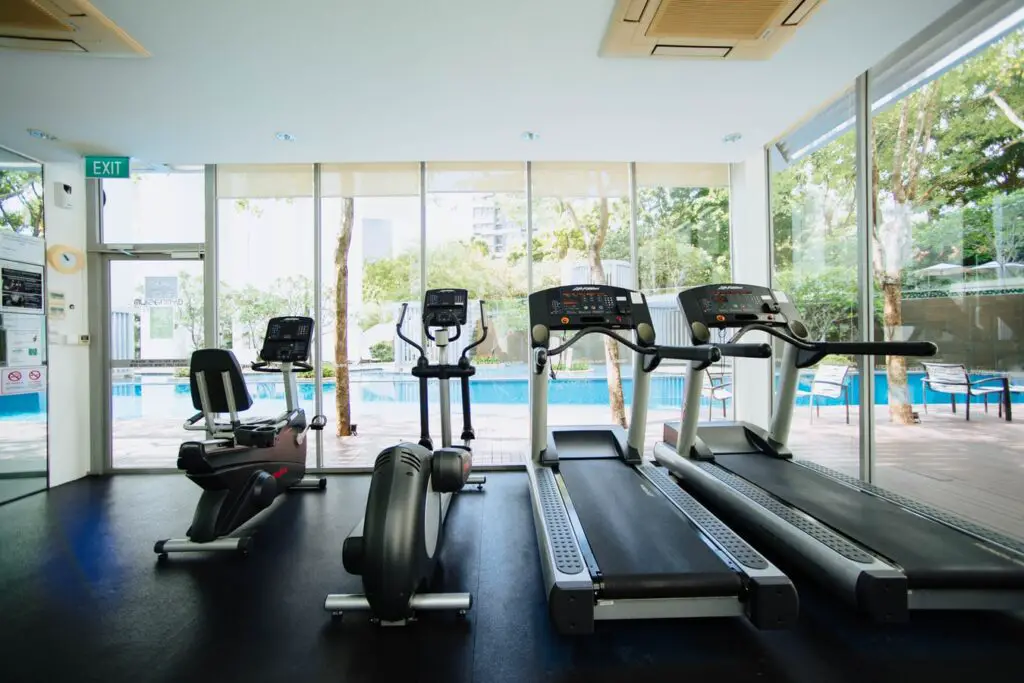 FAQ
Does the chest wrap come with the treadmill?
Yes, it's included and you need not pay an extra coin for it.
Does it use regular outlet power?
This model uses a standard three-prong plug. It has no special electrical requirements.
Should I be concerned about any motor noise?
No, the treadmill is not loud at all.
Did anyone have issues with the walking belt skipping/stopping right out of the box?
We ordered the lubricant for the tread specific to the brand we purchased. Greatly loosened the tread until I could easily reach my arm all the way through and liberally applied the lubricant sprays. You spray a bit and manually pull the thread through until you spray the entire undersurface.
Once that process was complete I ran the tread for about 5 minutes ensuring a nice distribution of oil. Then I tightened the tread until my hand could almost reach 1/2 under the tread. No issues since. I've only had to adjust once afterward since then to prevent slippage to the side. The instructions in the manual are pretty accurate.
Freemotion 860 treadmill Buying Guide
INTRODUCTION
The Emotion series is a great treadmill to check out if you are looking for a basic but solid exercise machine. The Emotion 830 by Tomicals is a piece of equipment that will not break the bank and provide an excellent workout. Before you decide to buy though, there are several things you should take into consideration. Here are some of them:
Freemotion treadmill reviews can be a great way to get a feel for the company. There are many different models of treadmills from many manufacturers and one that you may want to consider are the Tomicals Emotion Treadmill. Before you go out and buy however, you should take a look at some treadmill reviews so that you can make sure that this machine is going to work well for you. Reviews can give you all the information you need about a machine before you buy it and in this case it will really be helpful.
FEATURES
When reading any Tomicals Emotion treadmill review you will learn the many features of this piece of exercise equipment. The Emotion comes with a heart rate monitor, a computer, a CD burner, and a couple of other things. It is important that you pay close attention to the details of your choice and make sure you know everything there is to know about this treadmill. There is no reason for you to run out and buy a $600 treadmill only to find that you cannot use it or that it breaks down after a couple of months.
As mentioned earlier there are plenty of different features available on the Emotion. That is a good thing as most people will enjoy the Emotion as long as it does what it is supposed to do – give you a good workout. One of the things that many people like about the Emotion is that it uses a standard treadmill motor rather than a high-powered one, so the noise is going to be much less than some of the more powerful machines you might run across.
ONLINE REVIEWS
There are several Tomicals Emotion treadmill reviews online and each of them will make sure to mention the many positives of this treadmill model. One of the things you should look for when reading these reviews is to make sure that they are not pushing a particular product. For instance, if someone is saying that the Emotion will give them a six pack in three weeks then they are not going to tell you that is impossible. Rather, they will tell you that it may take them a few months, but it is possible. The reviews should mention that the manufacturer of the treadmill believes in their product so that is a sign that you can trust when reading the reviews.
CARE AND MAINTENANCE
Another feature that you should keep an eye out for in Tomicals Emotion treadmill reviews is information on how to best care for this treadmill model. For instance, is it recommended that you add lubricant to your running gear every time you take it out for a cleaning? Or is it recommended that you dampen the running surface before you put your running shoes on so that there is no slipping when you take them off? Keep these things in mind, because they could save you a lot of money on repairs or replacements later.
WARRANTY
When reading Tomicals Emotion treadmill reviews, make sure that the reviewer mentions how long the warranty will last for. The longer the warranty then the more likely that it is going to be useful to you. You should also keep in mind that some treadmill models are only offered for a limited time period. Other treadmill reviews will mention whether or not the Emotion is a good choice for running on hard surfaces. If it is mentioned then it might be a good choice of running gear for a beginner runner.
PERFORMANCE AND DURABILITY
The Tomicals Emotion treadmill review will let you know how durable the running gear is, but what you should consider first is how well it performs. So check the details of the treadmill out in the information section at the website. Read through the various treadmill reviews and compare them with each other so that you can get an idea of which one is going to be best for you. If you want to read more about this product, there are a number of articles on the internet that reviewing this type of running gear. Make sure that you read these before making a final purchase.
Conclusion
The FreeMotion treadmill 830 has had a competitive edge among similar treadmills due to its good pricing. Its upgrade to freemotion 860 is a great plus, given the additional laxity features that come with it. You'll get an exceptional experience using this high powered motor machine.
Moreover, freemotion 860 has a variety of workout options that are developed with your health in mind. Your feet lands gently on the belt, thanks to a surface response suspension feature. Further, you are assured of firm push-off and more efficient strides.
The company partners with some world-ranked events such as Tour de France to give additional training programs, competitions, and event training.
If you want a classy home workout, try FreeMotion 860.
Related Resources
How much energy does a treadmill use
How tight should a treadmill belt be
Nordictrack elite 9500 treadmill
Surge protectors for treadmills
How to disassemble a NordicTrack treadmill
Desktop attachment for treadmill
What muscles does the treadmill work
Book holder for exercise equipment