Nordictrack elite 5700 treadmill
Regular physical activity is paramount to your health and body fitness. Nordictrack treadmill 5700 is excellently modeled to allow you exercise in a safe and enjoyable way.
While this treadmill is sold exclusively in Sears retail stores, the NordicTrack engineers offers you a very similar treadmill, the NordicTrack elite 1750. According to the NordicTrack elite 5700 reviews, the popular NordicTrack 1750 treadmill is superior.
NordicTrack commercial 1750 Treadmill
The commercial 1750 treadmill offers a stunning collection of features designed to make your workouts at home a great experience.
This high-quality foldable fitness equipment is powered by a strong motor at 3.8 PH, to be precise. It is internet enabled and is also equipped with a large touch screen display.
An array of built-in workouts inspires you to continue exercising by simulating the natural environment. Nordictrack provides an adjustable incline and decline feature of -3 % to 15 %.
Innovatively, monitoring your heart rate is made easy. The equipment is fitted with handlebar sensors plus a wireless chest strap rate monitor.
Features at glance
10" Smart HD Touchscreen
1-Year NordicTrack iFit free membership.
Wide belt. 22" x 60" Commercial tread belt.
-3% to 15% Incline.
Adjustable speed range between 0-12 MPH.
OneTouch Controls.
5" Precision and Balanced Non-Flex Rollers.
High-weight user capacity of 300+ lbs.
Foldable with EasyLift assist
Convenient size. 78.8" L x 39.2" W x 63" H
Pulse monitors. Wireless chest pulse and sensors at the handlebars.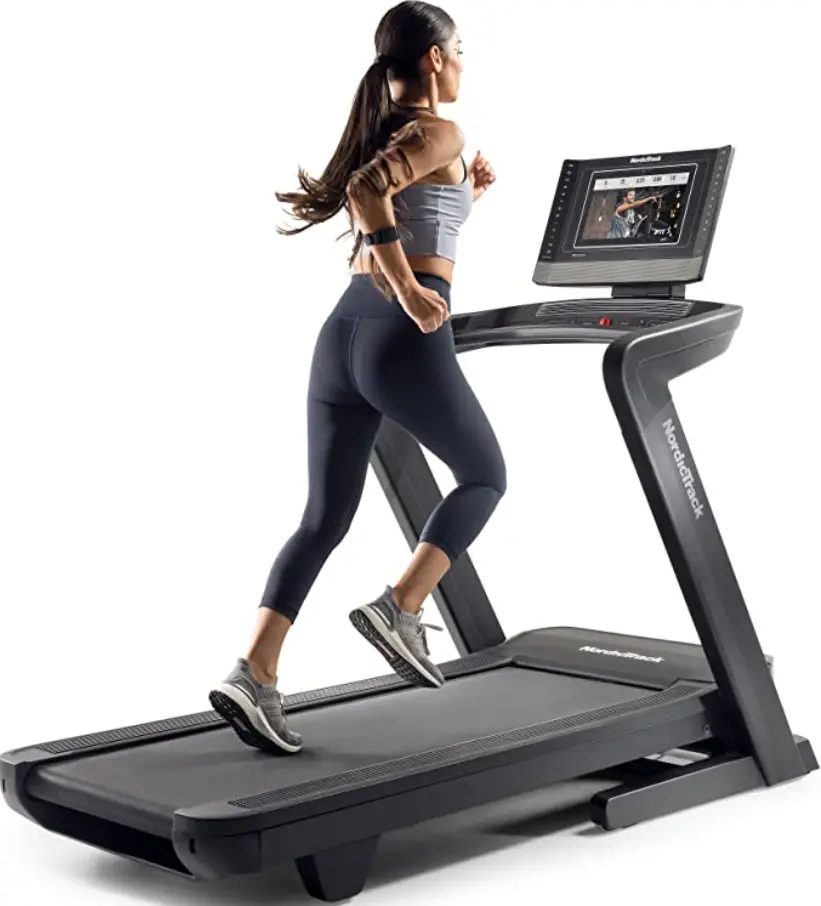 What we liked
Space-saver design. It's easy-to-fold design allows you to keep the equipment upright in a single step. Not only does it save on space, but also is very secure, minimizing chances of accidents.
Comfortable and safe. NordicTrack 1750 treadmill provides you with a wide and long belt. Health fitness professionals recommend a treadmill belt that is at least 48 inches or longer. For NordicTrack elite series, the belt fits in as it is 60 inches long. It can accommodate even longer strides as you run on the machine. More to this spacious walking area is a heavy-duty cushioning.
You do not want to get bored on a treadmill! This brand comes with a smart touch screen that is web-enabled. The audio options allow you to listen to music, dance and connect to the world while still on the treadmill. Along with inbuilt speakers, Bluetooth connectivity is also a plus.
A wide range of workout programs. The design offers a variety of built-in workout programs to choose from. You can add to the workout options by subscribing to the iFit program. This makes you more committed and motivated as you get in-person training and workout programs to follow. Do not forget the additional inspiration from world trainers and the ability to compete with other people.
What we didn't like
Time-consuming assembly. This is a heavy-duty treadmill, and is quite weighty.
It requires some time to put together, especially if you're alone. Though you may need some assistance, it's a great equipment once in place.
What's the bottom line? 
If you are looking for an excellent performance coupled with entertainment, Nordictrack Elite 1750 is a great choice.  The Nordictrack 1750 treadmill is a very sturdy exercise instrument. It is multi-featured to offer you a fantastic experience during your workouts.
Besides its high quality, the treadmill is designed to offer comfort through flex cushioning, ample running belt and breeze fans. The treadmill also consists of a tablet and water bottle holders for a stress free exercise session.
NordicTrack 5700 vs 1750
The NordicTrack elite 5700 treadmill is a replica of the Nordictrack elite 1750.
Well, most retailers adore exclusivity as a marketing strategy. They get into a contract with manufacturers to make something exclusive for them.
This is the case with NordicTrack elite 5700 treadmills, which is solely sold by Sears.
Nonetheless, these two treadmills are similar in many aspects.
Similarities
Power and running area. Both treadmills are among the NordicTrack elite series that are powered by a 3.8 HP motor. They equally provide users with a spacious running belt of 22″ by 60″ and a speed range of 0-12 mph. These machines are designed to hold a weight of up to 300 lbs.
Program variety. NordicTrack Elite 1750 has a variety of built-in exercise programs, all similar to NordicTrack treadmill 5700. You can also access tons of workout programs by subscribing to iFit, as both machines are compatible with it. With this, you could connect to peers with iFit compatible treadmills for a competitive race.
Space saver feature. Most high-end machines are heavy and quite huge, as extra features call for additional size. You won't have to seek a helping hand to move these machines around. The NordicTrack elite 1750 and 5700 have a folding design, thanks to the Space-saver model with EasyLift Assist. The design is popular as it allows you to securely fold up the treadmill within a few seconds.
Incline and decline. Your training sessions with these machines are more or less the same. Different parts of your muscles are addressed to as you don't have to use the flat zero degrees constantly. They both allow for uphill training by a 15% incline plus a downhill -3% decline.
Entertainment. You don't have to be a dull or uninformed runner! You could convert any of these treadmills to a reading or duty station by connecting to the internet while training. Both treadmills are web-enabled, android powered, and have a 7″ full-color touchscreen display. These allow you access to browsers, YouTube, email accounts, and lots of fun. Playing your favorite music is catered for as both treadmills support digital music players and have high-quality 3" stereo dual-speakers.
If you've got some other business on the tablet, these treadmills have strong holders that could accommodate it perfectly.
Controls and monitors. Having to go through hoops to access dozens of great features dims their importance! NordicTrack elite series have a special 1-touch control feature fitted on the console. It allows you to access and adjust everything from the belt speed, incline and decline, to dual auto-breeze fans.
You can monitor the heart rate in two ways for both machines. You either use the undistracted wireless chest strap or grip pulse sensors on the handles.
Warranty. These machines, being similar in almost every aspect, have an indistinguishable warranty program. The frames and motors have a lifetime guaranty, a five-year warranty on parts and electric, plus free 2-year labor.
Differences
Since NordicTrack treadmill 5700 is a customized version of NordicTrack elite 1750, finding the differences is quite a daunting task. Though these treadmills are equal on features, there exist very few unnoticeable differences between them.
However, there are several quality questions raised on the NordicTrack elite 5700 reviews. These concerns include noise. A few users have reported more noise in the 5700 version.
Additionally, the commercial NordicTrack 1750 has stronger parts compared to its analogous. You don't want a less lasting treadmill!
There's a slight difference in pricing, but it's insignificant.
Nordictrack elite 5700 treadmill buying guide
The Nordictrack Elite is a high quality, fully automatic treadmill that can be used in the home or office for exercising and increasing fitness needs. There are many different types of treadmills available to consumers.
Many people find that using a treadmill with incline helps to burn calories more quickly. Many people feel that if one is going to work out, they need to have a personal trainer to help them find the best type of treadmill to use.
Types
Using the Nordic DysTrack Elite for increasing fitness needs is easy. The machine comes in two different models. There is the traditional model, which comes with the two compartments on the side, with the remote control.
The Elite comes with a preprogrammed incline as well as an incline feature. The new version Nordic DysTreadmill 1700, which is considered to be a higher quality model of nordictrack treadmills, comes with the same features as the Elite but also has the following extra features:
Features
Heart rate monitor
One important feature that is great to find in a modern day commercial model is the integrated heart rate monitor. This helps to keep an individual from over training their body.
By monitoring the heart rate of an individual while they are exercising on the nordictrack elite, individuals can make changes in their workout to reduce the risk of injury.
One would also be able to monitor the amount of calories being burned as well as the amount of time the workout requires. With the accurate readings taken by the heart rate monitor, the individual can determine how long it will take to complete a particular workout.
Workout programs
Another feature found in the elite 195700 treadmill is the programmable workout programs. These workout programs allow the user to vary the intensity of the workout programs as well as the number of sets and repetitions.
This helps to customize the workout routines to meet an individual's personal fitness needs.
With the advanced programmable features, users can make adjustments as their fitness levels change without having to resort to adjusting the incline on the machine.
Adjustments made on the fly rather than having to stop and restart the session keeps people from getting bored and allows for more intense exercise.
Belt drive
One of the most popular features with this treadmills compared to others is the integrated two-stage belt drive. The two-stage drive system allows for smoother walking and running motion for an individual.
The two stage system offers a smoother ride than what one would experience on other models that use a roller drive system.
The two-phase belt drive also provides added strength for the frame, which helps to support the heavier runner or walker. One of the best features of the 2-stage system on the elite floor model is the ifit compatibility.
Built-in features
If it does not have an iFit display, the model also offers a built-in workout bench with a built-in power lift.
The built-in workout bench has a light-weight incline that can be adjusted for any level of incline in order to challenge anyone's workout abilities.
For those looking for extra exercise, the built-in leg rest feature allows the user to place his or her legs in a comfortable resting position. This feature is important for runners and walkers who require more leg support during their workouts.
A benefit of the built-in leg rest is that the elevated surface will help prevent injury.
Warranty
In order to ensure that the unit will last for a long time and provide optimal performance for its users, the unit also includes a five-year warranty.
The warranty not only covers repair and replacement of parts that develop problems, it also covers damage due to abuse, disassembly and water exposure.
It is also important to keep in mind that the unit is not compatible with any of the older IFITMs or other fitness machines as most of them do not come with a chp motor.
The chp motor is exclusively manufactured by the Nordic I/O and produces enough torque to run most types of treadmills.
Affordability
With all of these benefits and excellent prices, it is easy to see why the Nordic I/O Nordic Track Elite is a great treadmill for a serious runner or walker. It provides a full body workout in a small and compact design.
It meets all fitness needs without breaking the bank and is affordable to all consumers. At the end of the day, it is up to you to decide which machine best suits your goals.
CONCLUSION
If longevity and quality are a concern in your search for a treadmill, NordicTrack 1750 is the way to go. Though there are other treadmills with similar aspects, most are built using lower quality materials. Using a low-quality machine for a heavyweight is a great deal-breaker!
To experience the real NordicTrack elite series adventure, we recommend that you acquire the NordicTrack elite 1750. It's a great deal for your money, and you'll additionally get ergonomic features and entertainment.
Related Resources
How tight should a treadmill belt be
Nordictrack elite 9500 treadmil
Surge protectors for treadmills
How to disassemble a NordicTrack treadmil
Desktop attachment for treadmil
What muscles does the treadmill work
Book holder for exercise equipment
Lifespan treadmil replacement parts